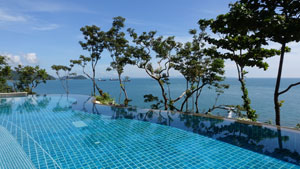 A swimming pool is the perfect place to relax, a broken pool is unsightly and could of course be dangerous. The time and money spent emptying a swimming pool for repairs can cost a fortune, especially now, as water is in such short supply! Fixing a pool underwater can be as easy as 1-2-3 without the inconvenience of not using it during the repair time.
You want to reattach broken or loose swimming pool tiles or you are looking for a swimming pool repair adhesive which is capable to seal leaks, reseal skimmer, replace grouting, seal the transition area, you need to seal a crack or a underwater pool liner glue: we have the answer and it works just like magic!
Underwater Magic™ Adhesive & Sealant and our Underwater Magic Mosaic™ are extremely strong single component adhesive and sealant ready to use (no mixing involved), specially developed for the entire pool and spa area, making it the perfect swimming pool glue which enables you to direct repair underwater, since it direct cures underwater and even stays flexible. They have been designed for a wide variety of tasks for indoor- , outdoor-, above ground- and in-ground swimming pools and spas, you can use it for all kind of swimming pool repairs like on concrete- fiberglass-, liner-, tiled- or Gunite™ pools etc and for nearly any repair in and around your swimming pool and spa.
Underwater Magic™ is not just an ordinary pool glue , it is 100% chlorine water and salt water resistant, it's instantly waterproof, free from isocyanate & solvents, it's odorless and it's 100% silicone free!
Simple said the magic underwater glue for repairing / refurbishing or to fix a leak, which withstand the test of time in your swimming pool.