We don't just say it works underwater, we prove it.
100% underwater use, in fresh, sea (salt) and chlorine water as adhesive or sealant.
Yes you can call it universal underwater glue!
What you wrote to us:
Works as promised, saved us a lot of time and money. Richard, Maintenance Manager, Spain
I just had to let you know what a powerful product you produce!! I am amazed and grateful that Underwater Magic completely took care of my leak with very little aggravation!! Thank you for making something that works as you claim it does!
!Rose, USA
FRANK!!!!!!!!! YOU MAD GENIUS YOU!!!!!!! IT WORKED!!!!!!!!!!! THANK U SOOOOOOOOOOOOO MUCH!!!!!!!!!! I KNEW I WAS THE PROBLEM!!!!!! HA HA HA!!!! ORDERING MORE RIGHT NOW!!!!!!! YIPPPPEEEEEEEE!!!!!
YOUR NEW FRIEND IN THE USA
D. USA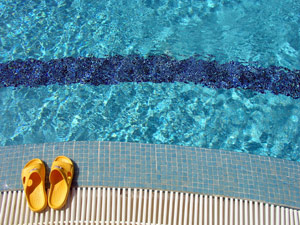 Your pool is the relaxing area at your house, a broken pool is unsightly and could of course be dangerous. The cost of water , the time and money spent emptying your swimming pool for repairs makes your eyes water, especially now, as water is in such short supply! Fixing your pool underwater can be as easy as 1-2-3 and the fun is back faster than you think.
If you are looking for a swimming pool repair adhesive, what is capable to seal leaks, reseal skimmer, replace grouting, seal the transition area of your pool or a swimming pool tile repair glue: we have the answer - and it works just like a magic glue! Underwater Magic™ is an extremely strong single component adhesive and sealant specially developed for the entire pool and spa area, making it the perfect swimming pool glue. Underwater Magic™ has been designed for a wide variety of tasks for indoor - outdoor swimming pools and spas. 100% chlorine and salt water resistant, enabling you to fix and repair underwater. It's instantly waterproof, free from isocyanate & solvents, it's odourless and it's 100% silicone free!
Read more...